Kunjungi Multimedia Nusantara Polytechnic pada Pameran Pendidikan di JCC dan Pilih Ragam Program Beasiswa Terbaik!
Jakarta – Multimedia Nusantara Polytechnic (MNP) ikut serta dalam pameran pendidikan bertajuk Indonesia International Education & Training Expo (IIETE) yang berlangsung selama 3-6 Februari 2022 di Jakarta cOnvention Center (JCC). Pada pameran ini, MNP menawarkan beragam keuntungan bagi pengunjung yang menargetkan siswa SMA/SMK.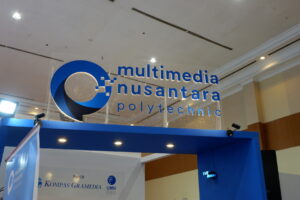 Menempati booth bernomor A11, dengan aksen dominan berwarna biru, Multimedia Nusantara Polytechnic (MNP) menghadirkan suasana profesional dan elegan bagi siswa yang berkunjung serta memperlihatkan beberapa teknologi canggih agar dapat menjadi booth yang paling menonjol. Di booth ini, Education Consultant Multimedia Nusantara Polytechnic (MNP) siap menjelaskan segala hal mengenai metode pembelajaran, sarana perkuliahan, fasilitas penunjang, hingga biaya dan program beasiswa yang ditawarkan. Salah satu beasiswa unggulan yang saat ini sedang berlangsung adalah Beasiswa Karya Terapan, yang detailnya dapat Anda lihat .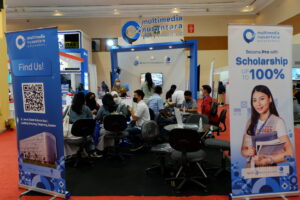 Selama pameran berlangsung, setiap siswa yang berkungjung ke booth Multimedia Nusantara Polytechnic (MNP) akan mendapatkan beberapa keuntungan, seperti goodie bag yang berisi merchandise Multimedia Nusantara Polytechnic (MNP), hingga kesempatan mendapatkan voucher Pendidikan senilai satu juta rupiah dan saldo e-wallet atau barang elektronik lainnya jika beruntung. Kesempatan ini hanya untuk siswa yang langsung mendaftar pada pameran ini yang kemudian mengikuti program lucky angpao.
Arie Tuggal selaku Head of Business Development Multimedia Nusantara Polytechnic (MNP) mengatakan pameran ini menjadi ajang bagi MNP untuk pertama kalinya tampil di hadapan publik secara offline. Hal ini dikarenakan Multimedia Nusantara Polytechnic (MNP) yang resmi berdiri pada 18 September 2021 baru beroperasi selama empat bulan dan di tengah-tengah pandemi sejauh ini baru melakukan promosi berskala besar melalui kegiatan secara online.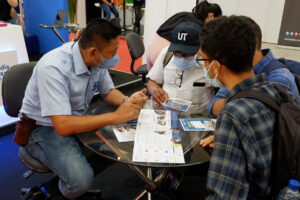 "Kami sangat bangga dapat berpartisipasi di pameran Pendidikan berskala internasional ini. Selama empat hari ini, kami menurunkan tim konsultan pendidikan yang terlatih yang siap memandu siswa memilih dan mendaftar di Multimedia Nusantara Polytechnic (MNP) pada program studi yang tepat melalui jalur beasiswa yang beragam. Terbukti antusiasme pada hari pertama banyak siswa yang tidak hanya tertarik berkunjung, tetapi juga mendaftar saat itu juga," terang Arie.
Tertarik untuk mendapatkan segala keuntungan tersebut? Ayo segera kunjungi booth MNP di IIETE hingga Minggu, 6 Februari 2022 karena seluruh penawaran terbatas! Cek dan ikuti juga Instagram @joinmnp untuk tetap up to date kegiatan dan penawaran dari Multimedia Nusantara Polytechnic (MNP) di pameran ini!